Details about the Eco-Healing Retreat in the Western Kimberley, WA
More info on venue, transport, location and details
Location – Start and Finish:
We meet in Broome at 7am on 3 June 2017 (the exact time may be subject to change but it will be around this time). The location to meet will be sent in the details triggered by your deposit on the trybookings form. If you are on a payment plan or paying straight into the account by e-banking or over the counter, please contact us to be emailed these details.
We will return to Broome 7 days later at around 7pm. Accommodation before and after as well as breakfast on the first day in Broome before departing for Cape Leveque and dinner on the last day in Broome when we arrive back, is your responsibility.
This is a map showing Australia with Broome – where we meet for the Western Kimberley Eco-Healing Retreat – and Kununurra, where we meet for the Eastern Kimberley Replenishment Camp (http://innatewisdomconnection.com.au/events/creativity-meditation-integration-retreat-eastern-kimberley)
Transport:
Flights go direct to Broome from most capital cities. From Darwin or Perth, either regional flights or a 2 day coach trip on the Greyhound will bring you into Broome.
If arriving from outside Australia, the closest international airports are Perth or Darwin and there are regional flights to Broome from there or a 2 day coach trip.
If you wish to bring your own 4WD that is fine. Please let us know if you would like to take any passengers with you. Please note you are responsible for your vehicle at all times.
Venue:

Kooljaman

Kooljaman is an off-the-grid wilderness camp located on Native Title land sustained by solar power and local bore water. The  low-impact accommodation has been specifically designed to capture the rugged character and beauty of Bardi Jawi country, and reflects the Aboriginal values of caring for land and country.
Access is a four hour 4WD trip and all organised for you.
Accommodation:
Accommodation available in the basic price is:
Unpowered and powered camping sites – BYO tents, bedding and camping gear (please note that space on the transports may be limited, so recommend small tightly packed tent, sleeping bag and mat). Toilet blocks nearby.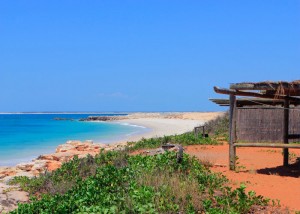 Beach shelters – located on the beach front close to the water's edge, these are made from bush poles with a thatched roof and palm frond walls and a sand floor. Each shelter has a picnic table, open fresh water shower and a fire pit. Shared ablution facilities are located nearby. You may be sharing the shelter with one other same-gender participant. BYO bedding/mat
The Mini Safari Tents are dome tents located in the campground. Each sleeps up to
two people and contains a comfortable futon style beds, ALL linen supplied, small fan & light. There is a small balcony with chairs. Gas barbecues and ablutions are located in the campground. You may be sharing with another (same gender) person in twin share.
There are also cabins, permanent tents and units available for extra cost.
What to bring – this will be sent to you when you put in the deposit however it will be simple clothing and personal items, something to sit on outdoors, etc.
What is available at Kooljaman:
All meals are provided. Due to limited cooking facilities and the ease of providing protein via meat, we provide both meat and vegetarian options. If you wish you can bring your own snacks.
There is an onsite restaurant if you wish to dine 'out' at any stage (own cost) and there is also a small cafe selling icecreams, etc. A general store sells limited basics.
There is no WiFi. And most probably no phone range. There is a payphone. The number for Kooljaman will be given in the details document sent out to you upon receipt of deposit where messages can be passed through to you in an emergency.
Laundry facilities available.
Snorkels are available for hire.
This is an alcohol and drug-free retreat!
Aboriginal land
At all times we are aware we are on Aboriginal land and pay our respects to the local communities in allowing us to be there. In joining this retreat we each agree to follow to any laws and rules that the Bardi wish us to adhere to.
'Bardi people have shared their land for hundreds of years with white explorers and traders who ventured to the Kimberley in search of food and land. The history of the indigenous people here goes back some 40 000 years when the sacred song lines and places of the dreaming and connection to country were the constant in tribal lore.
In today's culture, aboriginal people want to be respected as the custodians of this country whilst welcoming people from diverse global cultures who genuinely have a desire to understand the land and it's peoples.
As environmental protectors, how the land is used both economically and as place to call home are the guidelines and values of our communities which is reflected at Kooljaman.
Owned by the communities of Ardyaloon (one arm point) and Djarindjin, staying at Kooljaman supports our families to thrive whilst retaining our cultural belonging and sense of community.
We are able to share our knowledge and stories with our guests by inviting you to take an aboriginal guided tour…or experience a sense of peace and oneness in our country while sitting quietly at our beautiful beaches
We have a spiritual connection to our country, the country is part of who we are through songs, dance and stories. It is our responsibility to care for country to make sure we don't lose our culture and dreaming the very essence that makes us who we are."
This is a wonderful and amazing adventure, we hope you join us!